Fixing Bad SMP Procedures 
Fixing a poor or bad Scalp MicroPigmentation procedure is the last thing anyone wants to do after having undergone a procedure to help them with their hair loss already.  Unfortunately, with the market flooded with poorly trained technicians, non scalp-specific pigment, and pop-up shop clinics, bad Scalp MicroPigmentation is more common than it should be.  Imitation SMP providers often sell their skills on borrowed or edited images or think that skills from tattooing or permanent cosmetics will translate to the skills needed to apply Scalp MicroPigmentation.
The reality?  There are a lot of ways Scalp MicroPigmentation can go wrong if you select the wrong provider.
HOW CAN SMP GO BAD?
Poorly Trained Technicians
Scalp MicroPigmentation can go poorly if your technician isn't properly trained.  Many pop-up clinics and even some steady clinics follow online or weekend courses for their technician certification.  It's important to understand what training your technician was required to complete and how many scalps they've been exposed to prior to your procedure.  The depth of knowledge each technician has on how SMP should be applied differently based on ethnicity, gender, and scalp shape is also important — a good clinic will have exposed their technicians to the variety of SMP applications so they are prepared for whatever you may need.
It's also possible to find imitators for SMP technicians in the form of tattoo artists or permanent cosmetic technicians.  At first glance it may seem as if the skills these occupations hold will translate to Scalp MicroPigmentation.  All use pigment applied to the skin.  The reality is that tattooing skills don't cover the detail needed to create a hair-like resemblance on the scalp.  The minute-sized, feathered impressions are a skill only properly trained SMP technicians hold.  Further, converting permanent cosmetics to the scalp is like comparing a grain of sand to a beach.  The size of the scalp is much larger than typical cosmetic procedures.
Lack of experience in hairline design is another key indicator of a poorly trained SMP technician.  Weekend courses, tattoo artists, and permanent cosmetic technicians aren't fully trained or exposed to proper hairline design techniques which take into account gender, ethnicity, and your personal desire for your SMP.
Improper Impression Size And The Wrong Tools
Proper Scalp MicroPigmentation is applied by delivering tiny, permanent impressions into the second layer of the scalp (the dermis) with minute-sized needles and extreme care so each impression mimics the look of a single strand of hair.  SMP can go wrong if the impression size is incorrect.  Using the wrong needle size or attempting to use equipment that is used for permanent cosmetics or tattooing on a scalp for SMP won't deliver a natural look.  Impression size that isn't right is a clear indicator to the world that you've had a scalp tattoo (and it's likely you don't want that — properly applied SMP should be undetectable).
Non-Scalp-Specific Pigment
Head or scalp tattoos applied by poorly trained technicians or tattoo artists will often turn blue or green.  The pigment used isn't scalp specific or formulated for colorfastness.  It's important to see past, fully healed results of the pigment used at the clinic you select.  Even if the pigment looks natural after the procedure, it can fade into blue and green if it's not scalp specific.  Always ask for unedited photos or to speak and see an actual client to make sure the pigment the clinic uses is right for you.
Permanent cosmetic technicians will often take pigment used for other areas of the face or body and apply it to the scalp.  Uses like areola reconstruction pigment is then applied to the head.  The color is wrong and won't appear natural — leaving your SMP very detectable.
WHAT ARE TYPICAL SOLUTIONS TO FIX BAD SCALP MICROPIGMENTATION?
Salabrasion
Salabrasion is a tattoo removal technique that uses salt embedded into severely-broken skin in an attempt to remove the tattoo.  It is often carried out by using a multi-needle "shading" attachment on a tattoo gun–think about the large multi-needle configuration used to apply large tribal tattoos, which have twenty-plus needles on one attachment to cause maximum skin damage and ink deposit — to integrate a saline solution with a high salt content.  It is literally the proverbial "adding salt to a wound"!  Then, the wound is to be kept completely dry until a scab forms and falls off.  At this point, some of the ink from the tattoo is in the scab, and so the tattooed area is a bit lightened.  The end result is often a scar that is lighter in color than the tattooed area was originally.  Sometimes an anesthetic is offered because there could be pain involved with this method.
There are branded certifications in salabrasion available to permanent cosmetic providers.  Normally, when a permanent cosmetic provider advertises that they do "tattoo removal," they are referring to salabrasion.  While this method of removal is primitive at best, the application, when used for small areas of permanent makeup, is clearly far more appropriate than it would be for an entire scalp. Aside from the facts that salabrasion is incredibly painful, takes multiple sessions, and won't likely take care of the full tattoo after multiple sessions — it will result in a very visible scar.  Scarring on the scalp makes it more difficult to get corrective Scalp MicroPigmentation and will leave your scalp in worse shape than when you started.
Electrocautery Therapy
Electrocautery is another option for tattoo removal.  The technique involves burning off the tattooed tissue with an electric device using a heated probe.  After the skin is healed it's typically treated again with new pigment to replace what was removed — this technique is most common in the permanent cosmetics profession and the new pigment is typically for eyeliner, lip liner, or brow microblading. Electrocautery therapy is NOT a suitable solution for Scalp MicroPigmentation removal — burning the entire scalp would be incredibly painful and would result in scarring.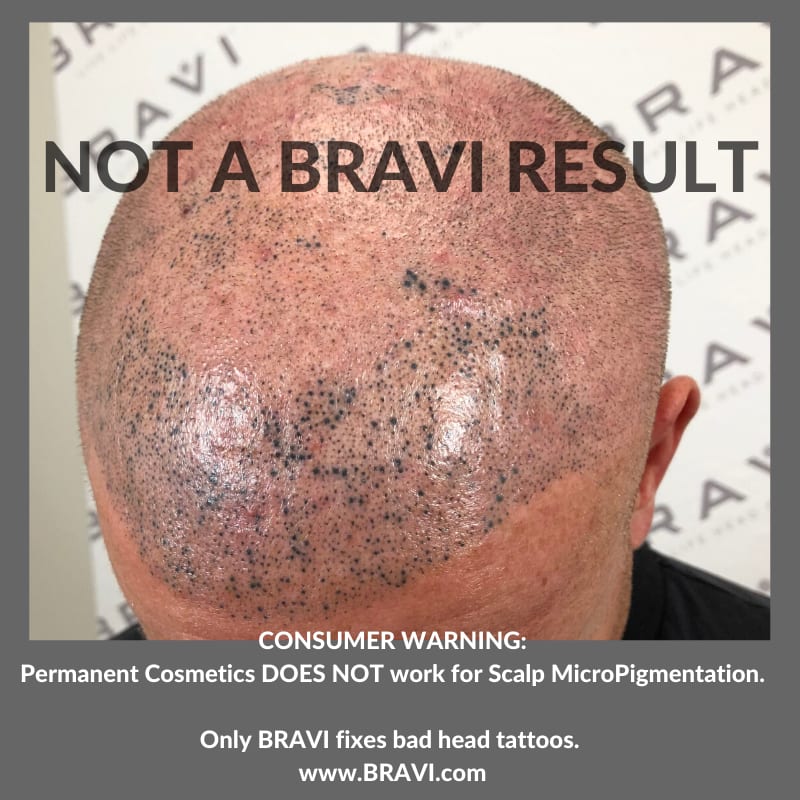 Adding Pigment
Nearly all tattoo artists and permanent cosmetic technicians only have one option when trying to fix a bad Scalp MicroPigmentation procedure — adding more pigment.  If your SMP procedure is applied by a permanent cosmetic technician or you visit a permanent cosmetic technician to fix your bad SMP, they don't offer any tattoo or SMP removal services.  They can only add more pigment to attempt a fix.  If your hairline isn't correct or the pigment doesn't have the correct color, your experience with this type of fix will only result in more frustration.  To fully solve the problem of poor SMP, you need to take away pigment and remove the prior SMP. Permanent cosmetic technicians can't take away, they can only add.
If your poor Scalp MicroPigmentation experience involves the wrong color of pigment or your SMP turns blue or green (which is likely with SMP that is administered by a tattoo artist), adding more pigment won't solve your problem–it will make it worse!   Adding more pigment on top of the blue or green result will only add more confusion to the scalp and it won't give you the natural look you desire from SMP.
Laser Tattoo Removal
Visiting a laser tattoo removal clinic is another option for solving poor SMP, but there are several drawbacks.  Yes, removing the tattoo with a laser is the BEST option for removing a bad SMP application.  However, tattoo removal clinics don't specialize in this type of pigment removal.  While they use a laser, the settings and attachments needed to properly remove SMP pigment aren't always available at these types of shops.  Tattoo removal focuses on larger and more deeply pigmented areas than what is applied in an SMP procedure. SMP is applied with small, delicate, and multiple impressions with different tools than a tattoo is applied.
SMP removal at a tattoo removal clinic could also result in heavy pain during the procedure.  Without medical oversight, proper anesthetic can't be applied and there will likely be pain during the SMP removal.  In most cases, tattoo removal shops and clinics will NOT take on SMP removal because it's too painful and they aren't qualified to remove SMP or tattoos from the scalp.
BRAVI – YOUR BEST CHOICE FOR SMP REMOVAL AND CORRECTION
Removing a poor application of Scalp MicroPigmentation or a head tattoo should only be completed by a highly trained and experienced clinic with laser technology and medical oversight — BRAVI.
Laser Technology
At BRAVI, we employ laser technology so we can safely and effectively remove pigment from the scalp.  With the proper attachments and training, we understand how important it is to remove the pigment from the poor SMP safely with laser technology.  Our laser technology also allows us to remove pigment as we apply SMP correction, offering a shading and variability in darkness that other SMP providers cannot achieve.
Technicians Trained In SMP Correction
Not only are our technicians certified to remove poor SMP applications, but they are also highly trained in correcting the SMP.  BRAVI can both subtract and add pigment, making us your complete solution to fixing, not just removing, your bad SMP.
Scalp-Specific Pigment
BRAVI only uses scalp-specific pigment that is formulated for colorfastness.  You can read more about our pigment here.  After years of testing, we know how important medical-grade scalp-specific pigment is to the complete solution for SMP and SMP correction.
Proper Pain Management And Complete Medical Oversight
BRAVI offers complete medical oversight which means that during your SMP correction with our laser technology, your pain management and safety will be high priority.  Our physician prescribes the right medication for SMP correction comfortability and specially formulated anesthetic is applied locally in our medically sterile treatment rooms.
If you need to fix a poor SMP application, choose BRAVI:
BRAVI can add and subtract pigment safely
BRAVI only uses medical-grade scalp-specific pigment formulated for colorfastness
BRAVI technicians are highly trained using a multi-level, six-month certification process
BRAVI offers proper pain management for SMP removal with prescription pharmaceuticals and a specially-formulated anesthetics with full medical oversight
BRAVI uses laser technology to offer detailed variability in darkness and coloration in the SMP application in a way that other clinics and shops can't because of BRAVI's investment in state-of-the-art laser technology and commitment to providing the best care possible
See our gallery of unedited SMP correction photos for more.