Scalp MicroPigmentation – should you do it?  Maybe you have had a bad SMP procedure and you need help. Maybe you have never had a head tattoo or SMP and you're interested in a solution for your hair loss that doesn't have the drawbacks of hair systems, topical solutions, camouflage products, or hair transplant surgery.
BRAVI is the right choice for you.
Industry Pioneers
We are the industry pioneers.  Our founder, Amanda Mazzocchi, started her path with SMP in 2011.  With her experience in art, science, and human physiology, she helped improve a rudimentary process of applying pigment to the scalp to cover up hair loss.  She perfected the SMP technique and created a rigorous training program.
BRAVI is the only SMP company with a proven curriculum and safety standards.  BRAVI protocols and procedures have been perfected over the years; we consider all of our staff to be SMP experts and are confident that you will not find a clinic with more experience.
Qualified and Highly Trained Technicians
We only pick the best of the best as technicians at BRAVI.  We start with a six-month, in-depth training program. Hundreds of hours are required with on-site training.  Technician candidates are highly supervised as we train and test each potential technician to make sure they understand the BRAVI method inside and out.  We also require a multi-step certification to ensure each technician is specialized in all of the cases we see at BRAVI.
BRAVI provides safe and smooth transition out of a hair system and into the freedom of Scalp MicroPigmentation
BRAVI provides superior results across the full spectrum of skin tones and hair colors.
BRAVI does not offer online training, we do not offer weekend training seminars, and we will never employ a technician that has not been through the BRAVI training program.  From corrections (when clients come to us with poor SMP results from other providers) to scar tissue (when SMP can help with scarring on the scalp from hair transplant surgery or other procedures) to new SMP clients who experience alopecia, every BRAVI technician will receive the proper training to perform the absolute highest quality SMP procedure for a variety of clients.  Simply stated, at BRAVI, we only offer the best.
Pigments are Proprietary and Properly Placed
At BRAVI, we have spent years in meticulous testing to make sure our pigment won't change color over time, won't migrate over time, and is safe during medical exams.  BRAVI does not use tattoo ink or over-the-counter bottled inks or pigments. At BRAVI, we custom blend pigments at the time of each SMP appointment which allows us to match perfectly to each client's hair and skin tone. Once the medical-grade pigments are custom blended, we then use specialized equipment that permanently embeds the pigment into the second layer of skin on the scalp (the dermis).
The quality and color of the pigment are extremely important in how natural the outcome is for the SMP procedure, but at BRAVI, we understand that the application is just as important.  We use extreme precision to make tens of thousands of tiny, follicle-size impressions into the dermis.  The blending, hairline design, and placement of each impression are so important and they can't be replicated by other providers that hastily train technicians or don't have as much exposure to the different types of hair loss and reasons for seeking out Scalp MicroPigmentation.
Post-procedure Care and Products
We don't send our clients home without proper post-procedure care and products.  We offer an all-natural, organic scalp care product line specific to BRAVI and available to every BRAVI client.  Our products help keep the scalp clean, soothe the scalp, and reduce the mild redness that is common after the SMP procedure.  Post-procedure products include cleansers, serums, and sprays.
Proper post SMP care is crucial to ensure proper results.  At BRAVI, we don't charge our clients for their post-procedure care products, they are included with each session.  The post-care process is easy to follow and your BRAVI technician will go through all instructions during your SMP appointment.  We also offer travel size options to clients that are flying in from out of state.
Sterile, Medical Treatment Rooms
Our best-in-class speciality clinic is designed specifically for SMP procedures.  Your safety is our priority.  We offer specific treatment rooms that are used only for Scalp MicroPigmentation.  The rooms are sterile, meticulously cleaned after every procedure and never used for anything else.  Often times we hear about competitors setting up shop in hotel rooms or rented office spaces, sometimes for just a quick weekend.  These red flags clearly tell the story that those providers don't understand the care and precision and medical necessity for a sterile procedure room.
At BRAVI, you will always be treated in a professional, medically safe treatment room.  The clinic is located in a medical building that is home to other medical providers.  We have three procedure rooms, a before and after photo room, coffee and snack bar, consultation and conference room, and a management office.  Our procedure rooms are spacious and each room has a great view of the Texas hill country, a television, and WiFi.
Top-of-the-Line Laser Technology and Products
We've discussed how important pigment and placement are to your SMP procedure, but at BRAVI, we also offer top-of-the-line laser technology.  We employ a state-of-the-art Q Switched Astanza laser for specific SMP cases like SMP diffusion and corrections.  It is housed on site and ready for clients that need its incredible precision and technology.
BRAVI offers laser corrective services to clients who have received a prior bad head tattoo.  Removal of tattoo ink is a crucial step in achieving a natural, undetectable hairline. We are the only SMP clinic that offers laser scalp tattoo removal and repair.
Medical Oversight
Why would medical oversight be necessary for an SMP procedure?  Along with sterile, medical treatment rooms, safe pigment, highly trained and certified SMP technicians, and proper post-care products, we understand that medical oversight is incredibly necessary for your SMP procedure.  We are fully overseen by a licensed medical doctor.  This allows us to offer our clients the highest level of medical innovation and prescription pharmaceuticals when needed.
Our medical direction also allows us to operate our Q Switched laser.  This saves our clients time and allows us to specialize in the full care of the client from beginning to end of their SMP experience.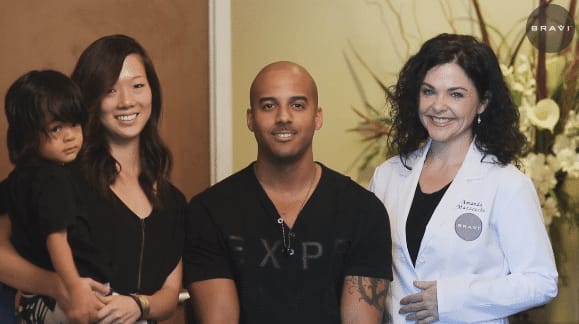 Complete Transparency
At BRAVI, we understand how important it is for future clients to see and talk to past SMP clients.  We think you should talk about the experience, the outcome, and even see the outcome in person if possible.  When interviewing BRAVI, we understand that it may be beneficial to chat with a client rather than a BRAVI technician.  That's why we offer complete transparency.  If you want to talk to a past client, we connect you on the phone, via text or messenger, or even in person if that works for both of you.  You can ask your questions, get clearer answers about your fears or concerns, and understand what it's like for a client to use BRAVI for their SMP procedure.
You deserve to see what BRAVI SMP results look like on a real client so we encourage you to take advantage of this unique experience.  If you do not live near a client that looks similar to you, we may decide that video chat is a good option for you.
Interested in learning more?  Visit our testimonial page to see the results clients have with BRAVI.
Ready for a free consultation?  Speak directly with an SMP technician to see how BRAVI and SMP can help you.
To see BRAVI's Full Gallery of Totally Unedited SMP Results,

click here

.